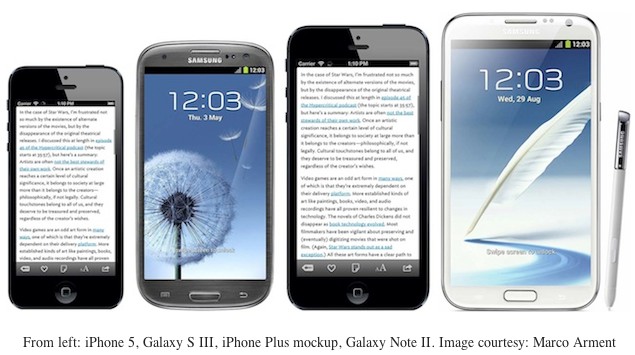 Big screen phones have become wildly popular over the last couple of years. The likes of Samsung Galaxy S III and HTC One X started the trend with displays around the 4-inch mark, and Samsung pushed the envelope further with the Galaxy Note and the Galaxy Note II, with screens in the 5-inch territory. Other manufacturers have followed suit, and many have cited screen size as a big reason for picking Android-powered phones over the iPhone.

Apple responded to clamouring for a bigger iPhone with what seemed like a half-hearted attempt of increasing the screen size with the iPhone 5. While the phone has gone on to become the best-selling iPhone till date, it hasn't quite managed to stop the exodus of people moving away looking for large screen phones. It is clear Apple needs an even-bigger sized phone to cater to the demands of an ever-growing segment, and if a prominent Apple developer is to be believed, Apple recognises this demand and is likely working on an answer in the form of 'iPhone Plus'.

Marco Arment, creator of Instapaper and a prominent voice in the Apple developer community, has penned his thoughts on the subject and come to the conclusion that a 4.94-inch iPhone Plus with 16:9 aspect ratio makes a lot of sense. Arment further states that the screen will likely have a 640×1136 resolution, and a pixel density of 264ppi.

Arment goes on to the state that the said iPhone Plus will not replace the existing iPhone, instead will lineup alongside the iPhone 5 as an additional option for buyers.